Ground Floor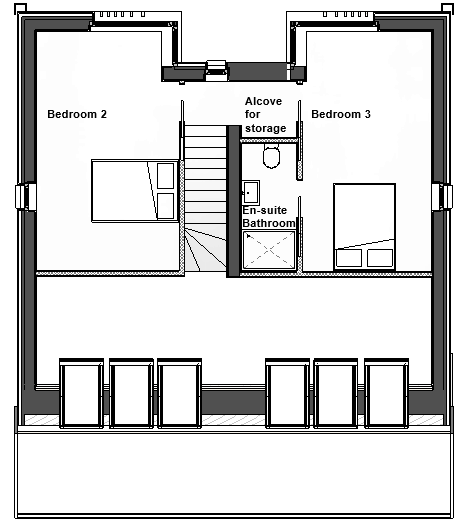 First Floor
At a glance – Flex F104
The Flex F104 is the Flagship model of Neat Living® Flex range. The Flex F104 is usually configured as a 3 bedroom home, with an open plan kitchen, living and dining space. 
Bright, modern and spacious design

Spectacular double-height dining and living space

Three large bedrooms

One master bedroom ensuite shower room

Flexible space 

Bath, shower or walk-in shower room options

Built-in furniture options

Bespoke floorplan layout options
| | | |
| --- | --- | --- |
| Room | Width  | Length (mm) |
| Bedroom 1 | 4.1 m | 4.1 m |
| Bedroom 2 | 3.1 m (2.7 m at narrowest point) | 5.1 m (4.1 m at narrowest point) |
| Bedroom 3 | 2.7 m | 5.1 m |
| Family Bathroom | 1.8 m (1.5 m at narrowest point) | 2.3 m |
| En-suite Bathroom | 1.2 m | 2.7 m |
| Kitchen/Living/Dining | 8.5 m (3.1 m at narrowest point) | 6.6 m  (4.8 m to stair) |
Front View
Right View
Rear View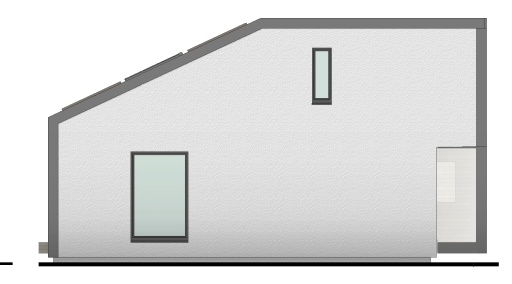 Left View
Building customisation
The Neat Living® Flex range offers bright, modern and stylish homes – designed to fit with our environment by customising the physical appearance with carefully selected, high-quality wall cladding and roof options.
Building performance
When it comes to Building Performance, there is more to it than just headline U-values; in fact, there are the nine essential elements that when combined together as an integrated solution, drastically reduce the heating and or cooling load on your future proof home.
Building durability
In a world where beauty is often only skin deep, we welcome inspection of our building design to demonstrate the vital importance of using robust, high-quality materials, products and equipment.
Future proof your life with a future proof home
 The Neat Living® Flex F104 Advanced Timber Engineered Kit includes: 
High performance, super-insulated structure, capable of EPC A.

Timber engineered structure with 300mm cellulose insulation finished with woodfibre board. 

All external walls and roof.

Mid floor on 1st-floor level.

Manufacture and erection on site, to wind and watertight stage.

Transport to site is excluded.
* Cost assumes that this is being built as a residence, therefore VAT is not charged. HMRC VAT notice 708 applies.
Terms and conditions apply.
How would you like to customise your Flex F104?
There are many ways in which your building can be customised for you – from cladding to roof-mounted photovoltaic (pv) systems. Please contact us to discuss how we can help you.
Exterior pack
The exterior pack includes the wall and roof cladding options – perfect for rural, urban or suburban locations.
Glazing pack
The glazing pack provides you with high-quality triple glazed doors, windows and roof lights pack. Our carefully selected energy-saving products combine beautiful aesthetics durability, comfort and security.
Power pack
The Power pack reduces your electricity bills and reduces your dependence on the national grid. It includes a fully integrated roof-mounted photovoltaic (PV) system to generate power from your own roof for you to use within the house.
Comfort pack
The comfort pack includes a fully integrated Mechanical Ventilation and Heat Recovery System (MVHR). The MVHR system provides continuous ventilation into the home and saves energy through the use of a heat exchanger.
Experience our virtual F104 here
Neat (UK) Ltd
The Construction Scotland Innovation Centre
3 Watt Place
Hamilton International Technology Park
Blantyre
UK
G72 0AG