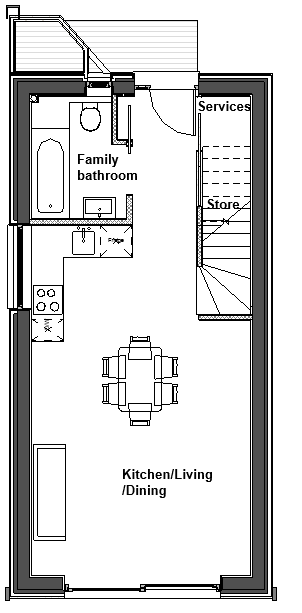 Ground Floor
First Floor
Would you prefer a different layout? 
Did you know that we can customise the floorplan to a different layout to suit your needs? Not only that but we can also change window and door size and positions to suit your individual needs or capture a particular view? Just let us know and we'd be delighted to help you.
Room
Width 
Length (mm)
Bedroom

3.1 m

(2.7 m at narrowest point)

5.2 m (4.1 m at narrowest point)

Bathroom

1.8 m (1.5 m at narrowest point)

2.3 m

Kitchen/Living/Dining

5.7 m (4.1 m at narrowest point)

6.6 m

 (4.8 m to stair)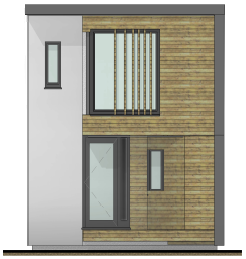 Front View
Right View
Rear View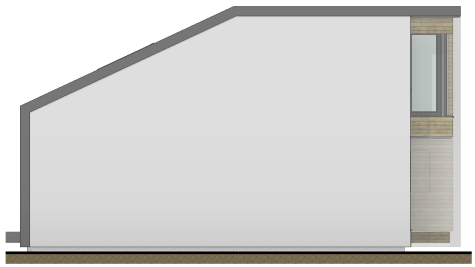 Left View
Future proof your life with a future proof home
 The Neat Living® Flex F46 Advanced Timber Engineered Kit includes: 
High performance, super-insulated structure, capable of EPC A.

Timber engineered structure with 300mm cellulose insulation finished with woodfibre board. 

All external walls and roof.

Mid floor on 1st-floor level.

Manufacture and erection on-site, to wind and watertight stage.

VAT is excluded.  

Transport to the site is excluded.
*Did you know that VAT charges on a new build home are recoverable under HMRC rules? For all information see the HMRC website.
Terms and conditions apply.
Experience our virtual F46 here
Some benefits of a Flex Kit House.
How would you like to customise your Flex F46?
There are many ways in which your building can be customised for you – from cladding to roof-mounted photovoltaic (pv) systems. Please contact us to discuss how we can help you.
Thinking About How to Get Started?
Call us today on 0141 297 1927 or use the Contact Us Here button to send us a message.