If you are like thousands of others who want to find land for sale or your dream plot but are not sure where to start, then we've great news for you. 
In this blog post, we'll show you how to find your perfect plot in 15 minutes using Rightmove's FREE Draw a Search tool.
What you will need
In true Blue Peter fashion, all you'll need is: 
a device – computer, tablet, etc., with

an internet connection.

a

free account with Rightmove.co.uk

to use their Draw a Search tool.

a couch, a coffee and two empty fairy liquid bottles – are all optional! 
Lots of plots – all on the Rightmove website!
Of course, there are 1000's of estate agents across the UK who sell land and plots. However, this means that prospective purchasers would need to find out who the right agents are in any given location and then individually register their contact details with the different agents. This can be very inefficient and time-consuming. 
At Neat Living, we like to make things easy for the self-builder. There is good news and it comes in the form of Rightmove – and their Draw-a-Search tool. In this blog post, we'll describe how to use this to efficiently find your perfect plot in 15 minutes or less. 
If you're not already familiar with Rightmove, this is an online platform that collates listings from agents across the UK into a searchable list. The listings can be organised in a variety of ways such as location, price, etc. 
Okay, let's start the clock and find your dream plot in 15 mins!
To open your free account, all you need to provide is a name and an email address. Register at

https://www.rightmove.co.uk/register.html

Of course you can deactivate your account at any time. 

Next, you can choose your first preferred location. It's very easy because Rightmove uses Google maps. Click the link to bring up the Draw a Search map at

https://www.rightmove.co.uk/draw-a-search.html.

Next, zoom in on your preferred area. Use your mouse or finger to get to the general area and use the + or – on the Google map to zoom in or out to suit.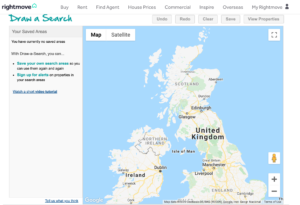 You'll want to zoom in enough so you can see your preferred area, in full. In our example, we want to search the entire area of Isle of Arran but you can create your own area, of course.
To create your preferred area, you'll want to create a series of dots around your preferred area. Start by placing a point on the map – by clicking on a location and releasing. Repeat, repeat, re

peat!
Make a series of dots to create your area, and then connect your last dot to your first dot!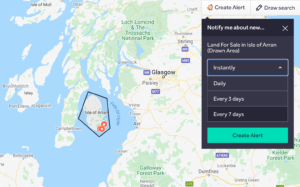 It's probably a good idea to save your search by naming it – in our case Isle of Arran. Then, click View Properties, to bring up all properties. 

Remember we mentioned that at the beginning we discussed how you can search for Property Type within Rightmove? Go to Property Type and search Land. Press Done.
By searching for Land, this has identified all of the plots in our selected area.

Now you can click on the red dots to reveal the plots for sale! 

Did you know that you can create an Alert? Alert notifications can be scheduled when new properties that match your search are generated within your Drawn Area, which means that Rightmove will notify you in a manner that suits you. For example, this could be every 7 days but this risks missing out on plots so you might want to see notifications more frequently.

Notifications are very much down to personal preference. From experience, try to be specific about your preferred area and frequency of notifications so you aren't inundated with notifications, which can become tiresome to review. 
There we have it – how to find your dream plot in 15 mins for free.
 You can choose to look in detail at each listing and follow up with the individual estate agent. Give us a call on 0141 297 1927 and we'd be delighted to help you further.