Budget Cost Plan
The logical first step on your self-build journey
What is a Budget Cost Plan?
The Budget Cost Plan is a document which includes all of the expected costs of your build, based on available information – such as the design drawings. The costs are established through what is called an elemental build-up, meaning that all the different elements of the project are considered.
The plan brings together not only the costs of your timber kit from Neat living but also the other construction and fit-out costs, which would be undertaken by a local contractor.  
The plan is prepared by an independent Quantity Surveyor and uses local construction rates – appropriate for the site location. A budget cost plan is the logical starting point for understanding your project costs.
Why you need a Budget Cost Plan (before you start)
A Budget Cost Plan is needed if you are asking the question, "How much will my project cost?" 
To put it succinctly, it allows you to get an early handle on costs and make an early "stop" or "go" decision before incurring additional costs. Once you have your completed Budget Cost Plan and feel that you need to change direction and revise the design – then that will be the time to do it. 
Are you curious about finding out how much it will cost to build your house? A Budget Cost Plan is needed to gain an informative understanding of costs prior to undertaking other aspects, such as ground surveys, planning and undertaking detailed design. 
Budget Cost Plan Layout
Check out the image to see how a Budget Cost Plan is structured.
Your plan will be tailored to your chosen Neat Living design and include relevant local costs for the various elements, in pdf format.
Allowances can be made for contingencies and unknown items, at this stage.
Note: The layout shown is for illustrative purposes only. 
The Top Three Benefits Of A Budget Cost Plan
No. 1 The Construction Cost  
Do you want to know what your construction costs could be? The plan generates the initial high-level expected costs for undertaking your build. Allowances can be made for items that are not fully designed at this stage. 
No. 2 Funding
The plan provides essential information that allows you to decide on options to fund your project, either self-funding or financing via a self-build mortgage. If you are thinking of applying for a self-build mortgage, you will need to provide details about expected construction costs – and an independently prepared budget cost plan will be able to provide details about these costs.
No. 3 Convenience
Neat Living takes care of all of the complex work behind the scenes and will generate the background information for the project, prepare the budget cost plan and have it delivered to you within 10 working days.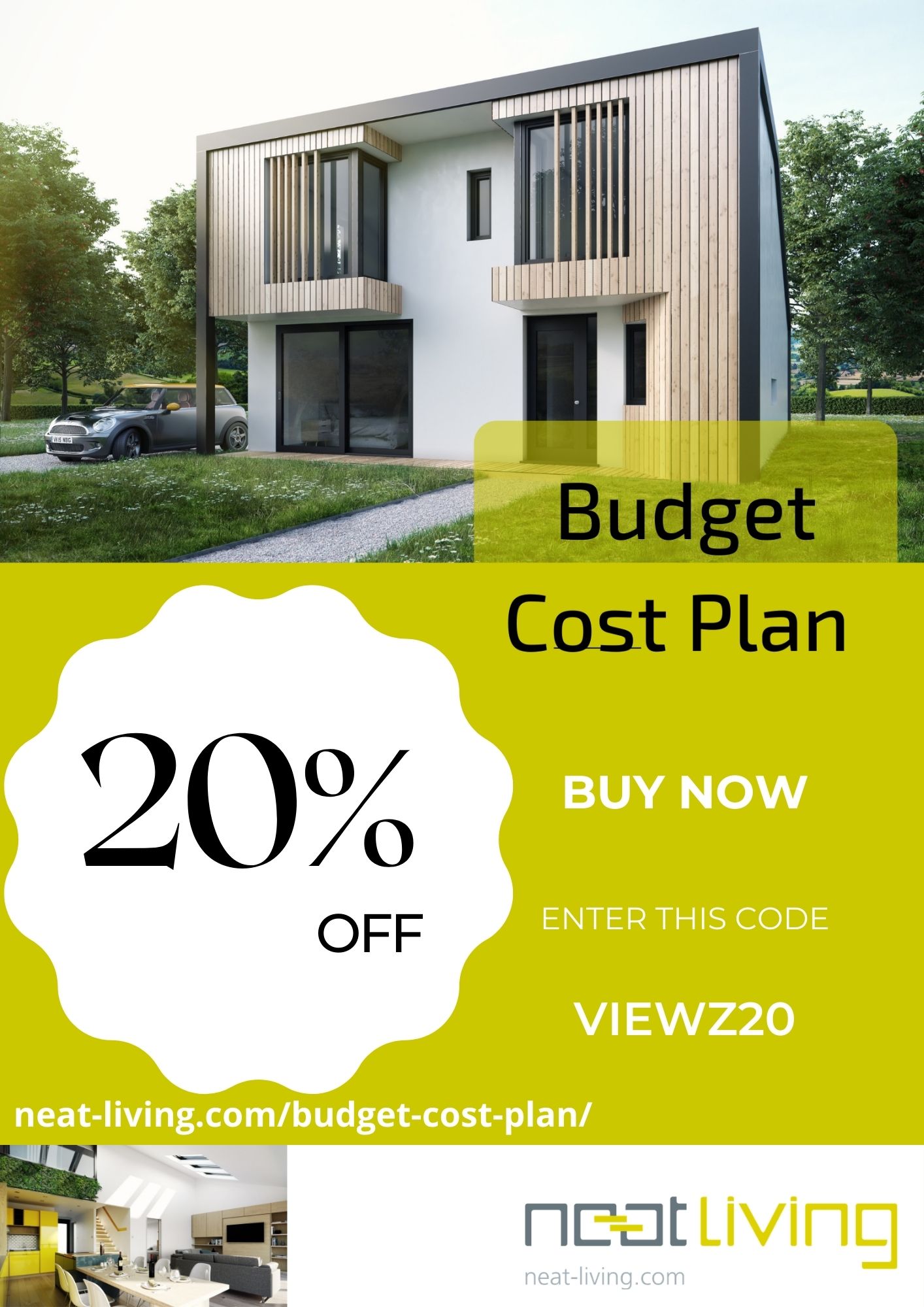 Save £359.00 Today – Limited Time Offer
To make sure that we help to get your project off to the best possible start, as informed and as knowledgeable about the process as possible a Budget Cost Plan is the way to go. The Budget Cost Plan is excellent value for money at £1,795.00 including VAT.
For the Budget Cost Plan, we'll prepare the essential drawings, an outline specification and site details for an independent QS to prepare a Budget Cost Plan for your project. 
Save £359.00 today, off the price of £1,795.00. We're currently offering a 20% discount. All you need to do is enter the coupon code VIEWZ20 at the checkout and only pay £1,436.00 including VAT for your Budget Cost Plan, today.  
Dealing with Neat Living has been an enjoyable experience. The fundamental attraction was their ethos, they understood what we wanted to achieve and were happy to build on ideas.
It's as easy as 1, 2, 3.
Step 1
Please enter all of your details, below. You can select the Aurora model and tell us where your site is.
Please note that this offer applies to England, Scotland and Wales only. We do not offer services for Northern Ireland or the Republic of Ireland.
Step 2
After you place your order, a confirmation of payment will be sent to you. Before we start working on your Budget Cost Plan we will check with you that we have all of your correct details.
Step 3
Neat Living will organise the initial drawings and outline specification for your project to enable a Budget Cost Plan to be prepared. The completed plan will be issued to you – typically 10 to 14 days. As soon as you have it, we can organise to have a follow-up call with you to discuss it in more detail and consider the next steps. 

Registered Company Address
Neat (UK) Limited
3 Clairmont Gardens
Glasgow
G3 7LW
Our registered address is:
Neat (UK) Ltd
3 Clairmont Gardens
Glasgow
UK
G3 7LW